Social Media Marketing
Could your business benefit from being more socially engaged?
If you're ready to
build social credibility
and engage with your customers in the online market place then you're ready for
Social Media Marketing.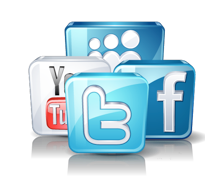 At Bondi Web Design we've been using
social media
and teaching others how to market their business using social media
since 2008
.
In that time we've discovered some
exciting and effective tactics
for targeting large numbers of consumers,
generating website traffic, leads and sales
from social media sites like Youtube, Facebook and Twitter.
The marketing tactics we started using in Social Media back in 2008 still work today, and will continue to work long into the future because they are
sound fundamental principles of marketing
. And fundamentals never change.
One simple principle we use at Bondi Web Design when constructing a Social Media Marketing Campaign for our clients is to look at how we can best
"add value"
to the online community and provide followers and fans with
direct benefits
that create a positive experience from being associated with their company.
Getting your business involved in Social Media will continue to reward you for many years to come and is an important element of your Online Marketing mix.
Here's just some of the ways Bondi Web Design and
Social Media Marketing
can help your business:
* We can help you implement
targeted Social Media lead generation strategies
that help you build a massive targeted following in Social Media.
* Get a clearer understanding of what the
customer values and wants
from your business through direct feedback from your followers and fans.
*
Increase website traffic, search engine rankings and build an email marketing list
using social media marketing with direct response marketing.
* Design and implement targeted marketing funnels within your social media communities that
build long term trust and credibility
and ultimately sell your products.
If you'd like to use Social Media to market your business, then give us a call today on
0402 523 688
or
Contact Us
for a
FREE small business consultation.